YOUTH UNEMPLOYMENT PROBLEM IN DEVELOPING COUNTRIES AND SOLUTIONS FOR TURKEY

Abstract views: 219 /

PDF downloads: 141
Keywords:
Unemployment, Youth unemployment, Employment, Supply-demand
Abstract
The unemployment problem, which started to become widespread with the Great Depression of 1929, started to affect the whole world with the increase of globalization. Most of the countries' economies have recently turned to struggling with the unemployment problem and have tried to produce policies in this direction. The problem of youth unemployment, which we can consider within the unemployment problem, has emerged as another issue that needs to be struggled for the national economies. The fact that young people, perhaps the most important factor in the development of countries, cannot be included in the market mechanism and remain idle in the economy has created problems for many economies. This research aims to examine the causes of youth unemployment in developing countries and to present rational and original solutions to these problems in Turkey. In this study based on the literature review, the causes of youth unemployment are elaborated by emphasizing the concept of youth unemployment and the structure of youth unemployment, the structure of youth unemployment in developing countries and Turkey has been examined in the light of data from institutions such as TUIK, International Labor Organization and the World Bank and solution proposals that can be used to combat youth unemployment in Turkey are listed. In terms of accepting the data used as more up-to-date, the fact that it covers the years 2000-2020 and that some countries that can be economically and socially equivalent to Turkey have been selected among the developing countries are the limitations of this study. Considering the data obtained, it has been determined that the share of graduates, especially at the higher education level, among the young unemployed is much higher than the graduates with a lower level of education, and this is due to the education-employment relationship.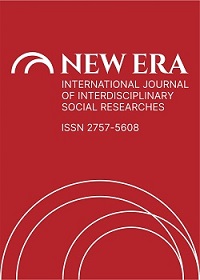 Downloads
How to Cite
KAYA, A. (2022). YOUTH UNEMPLOYMENT PROBLEM IN DEVELOPING COUNTRIES AND SOLUTIONS FOR TURKEY. NEW ERA INTERNATIONAL JOURNAL OF INTERDISCIPLINARY SOCIAL RESEARCHES, 7(14), 1–24. https://doi.org/10.51296/newera.188
License
This work is licensed under a Creative Commons Attribution-NonCommercial 4.0 International License.