MITHRAISM ROCK TEMPLE ARCHITECTURE IN IRAN

Abstract views: 100 /

PDF downloads: 229
Keywords:
Mithraism, Rock Temple, Iran
Abstract
Mithraism is known as one of the ancient world religions. The roots of Mithraism settle in the old world beliefs, culture, and mysteries. Historical documents show the origin of Mithraism belongs to the 1400 years B.C. Mithraism features found in different parts of the ancient world from east to the west: India, Iran, Anatolia, and Europe. The name of Mithra in ancient Indo-Iranian mythology as the god of light is in some historical inscription. Among the ancient world's religions, Mithraism is the ancient Iran pre-Zoroastrian religion. There are some doctrines about the origins of Mithra. The well-defined of them is the dualism doctrine that comes from Zoroastrianism. This doctrine is always a battleground between the Good Principles and the Evil Principles. The force of propitious is light or day and the forces of evil are with darkness or night. These two foeces are in a state of perpetual war. According to the archeologists, many rock temples with Mithraism features locate in Iran. Some of these natural rock temples are in the northwest part of Iran. The gravity center of this study is one of the rock temples of Mithraism in the northwest of Iran. These temples locate at a cross-sectional point between different cultural impressions. For accessing the aims of the research, the study consists of three stages. In the first stage, the focus point is on the roots of Mithraism in Iran and the ancient world and the interaction of Mithraism with other cultures. Then in the second stage, be tried to find Mithraism temples' general architectural characters and elements due to the expansion in Iran and in Europe. Finally, the study is concentrated on the case study rock temple Mehr Temple in the northwest of Iran to investigate the structural characteristics, find similarities with the other temple, and evaluate these characters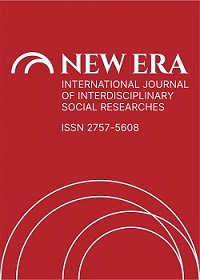 Downloads
How to Cite
MIKAEILI, M., & MIKAEILI, M. (2022). MITHRAISM ROCK TEMPLE ARCHITECTURE IN IRAN. NEW ERA INTERNATIONAL JOURNAL OF INTERDISCIPLINARY SOCIAL RESEARCHES, 7(12), 8–22. https://doi.org/10.51296/newera.158
License
This work is licensed under a Creative Commons Attribution-NonCommercial 4.0 International License.