AB-ANBAR: A SUSTAINABLE ARCHITECTURAL METHOD FOR WATER RESERVATION IN HOT-ARID REGIONS OF IRAN

Abstract views: 8 /

PDF downloads: 6
Keywords:
Underground Water Reservoirs, Climatic Responsible Architecture, Iran.
Abstract
The traditional architecture of Iran has always been rational and in harmony with the environment and climate to meet the needs of the people. Iran's vast plateau locate in an arid and semi-arid region of the world. They have also made the best initiatives with the least means without harming the environment. We can say that the Ab-Anbars, which were built in the arid regions of Iran to store water during the rainy season and to use it during the rest of the year, are a climate-responsible architectural design method. In ancient Iranian beliefs, traditions, religion, and culture, water was a holy subject carrying high value as a vital matter for human life. Due to the inefficient annual precipitations, unfavorable distribution of surface water, fluctuation of seasonal streams, and fulfilling water demand: ancient Iranian have provided unique methods for optimizing water utilization. One of the unique ways of optimizing water conservation is using an architectural method, the construction of underground water reservoirs or Ab-Anbar. Ab-Anbar is a roofed underground water cistern. These Underground buildings are historical hydraulic structures for drinking water supply. Today, most of these structures are still functional and are protected by state restoration as historical heritage. Underground water reservoirs have been built in arid regions, cylindrical, sometimes rectangular, and completely buried inside the ground. Access to the water reservoirs is via an underground stairway. In urban open spaces, the roof of underground water reservoirs appears as a dome roof on the ground level. The construction material used for subterranean water reservoirs was brick and a special mortar called Sarooj. Because the Ab-anbar structure is built with very thick walls and below ground level, the water remains cold. They would also build wind towers at the four corners of the water reservoir to ventilate inside the building. Within the scope of this study, the climate-responsible design principles used in Ab-Anbar structures will be examined that emerged in the hot-arid regions of Iran.
References
Acres, Edward. "What Is Eco Architecture?" Erişim 11 Ocak 2023. https://www.acresarchitects.co.uk/category/hints-tips/
Bauten Entdecken, "Wie funktioniert die Kühlung des Wassers bisher?". Erişim 11 Ocak 2023. https://bautenentdecken.tumblr.com/
BNA Hollanda Mimarlar Kraliyet Enstitüsü. Erişim 11 Ekim 2022. www.bna.nl
Broadbent, G. Brebbia, C. A. (2006). "Ecological Propriety and Architecture. Eco Architecture: Harmonisation Between Architecture and Nature". Edited WIT Press.
Daiiallah, Mohammad. et al. (2014). "Principles of Sustainable Development in Architecture and Urbanism of Iran's Hot and Dry Climate in the Past". Danesh Nama (Tech.-Prof. Mon. J.) 21(2014), 15-21.
İbrahim, I. "Socio-Environmental, Impact in Eco-Architecture". WIT Transactions on Ecology and the Environment. WIT Press, 128 (2010), 185-195. ISSN 1743-354 (online). Doi:10.2495/ARC100161.
Kasmaee, Morteza. Climate & Architecture. Khak, Isfahan, Iran. 2003.
Coğrafya dünyası, Erişim11 Ekim 2021. https://www.cografya.gen.tr/siyasi/devletler/iran.htm
Ghani, Fatima. "Issues in sustainable Architecture and Ppossible Solutions". International Journal of Civil & Environmental Engineering, (IJCEE-IJENS) 12/1, (2012) 21-24.
Gholami, Siamek et al. "Development of Ancient water Storage Systems Namely Ab-Anbar by Evaluation, a Technical Method in Iranian Deserts, (By Environmental Aspects Structures)". The First Sustainable Development Conference of Engineering Systems in Energy, Water and Environment (SDEWE). (21 May 2015), Mech. Eng. Dept., Iran University of Science and Technology, Tehran, Iran.
Ghiai, Mohammad Mehdi, et al. "Investigation and Modeling of Energy Cnsumption of Tall Office Buildings in Iran's Hot-Arid and Cold Climate Conditions". International Journal of Low-Carbon Technologies 16 (2021), 21–34.
López, F. J. Soria. "Architecture and Nature at the End of the 20th Century: Towards a Dialogical Approach for Sustainable Design in Architecture". WIT Transactions on The Built Environment, 86, (2006) 23-33. ISSN 1743-3509 (online)
Meserret, Hüseyin. Water Reservoirs of Yazd: Income on Their Background, Function, and Structure. Yazda Publications, Tehran. 2011.
Mikaeili, Mahshid. "İran'ın Sıcak-Kurak Bölgelerinde Eski Dönem Eko-Mimari". Mimarlık Bilimleri ve Sürdürülebilirlik. Ed. Ertaş Beşir Ş. et al. 459-492. IKSAD. 2021. ISBN: 978-625-8061-43-7.
Mikaeili, Mahshid. İran'da Bazı Yerleşim Alanlarında İklimsel Sorunlara İlişkin Geleneksel Tasarım Önerileri ve Uygulama Örnekleri Ankara: Ankara Üniversitesi, Fen Bilimler Enstitüsü, Peyaj Mimarlığı Anabilim Dalı (Doktora Semineri). 2012.
Mikaeili, Mahshid ve Memlük, Yalcin. "Badgir: Design with Nature, a Traditional Architectural and Climate Element in Hot-Dry Region of Iran". International Conference of Architecture: Architecture and Technology. (15-17 November 2012). 136-146. ICON I, Proceeding Book. Selcuk University, 2012.
Olgyay, Victor. Design with climate: Bioclimatic Approach to Architecture Regionalism. Prinston University Press. 1962.
Pirnia, M. Karim. "Iranian Architecture Stylistics". ed. Memarian, G. Saadi. Tehran, Iran. 2005.
Saeidian, Amin. "Ab-anbar, Sustainable Traditional Water Supply System in Hot Arid Regions, Remarkable Example of Iranian Vernacular Architecture". Sustainable Architecture, Elixir Sustain. Arc. 56A, (2013), 13584-13590.
Zoroastrian Heritage. "Kariz: Ancient Water Distribution Channel". Erişim 18 Ocak 2023. https://www.heritageinstitute.com/zoroastrianism/kareez/index.htm
Yousef, Fazeleh et al. "The Role of Ab-Anbars in the Vernacular Architecture of Iran with Emphasis on the Performance of Wind-Catchers in Hot". MDPI: Heritage, 4 (2021), 3987-4000 https://doi.org/10.3390/heritage4040219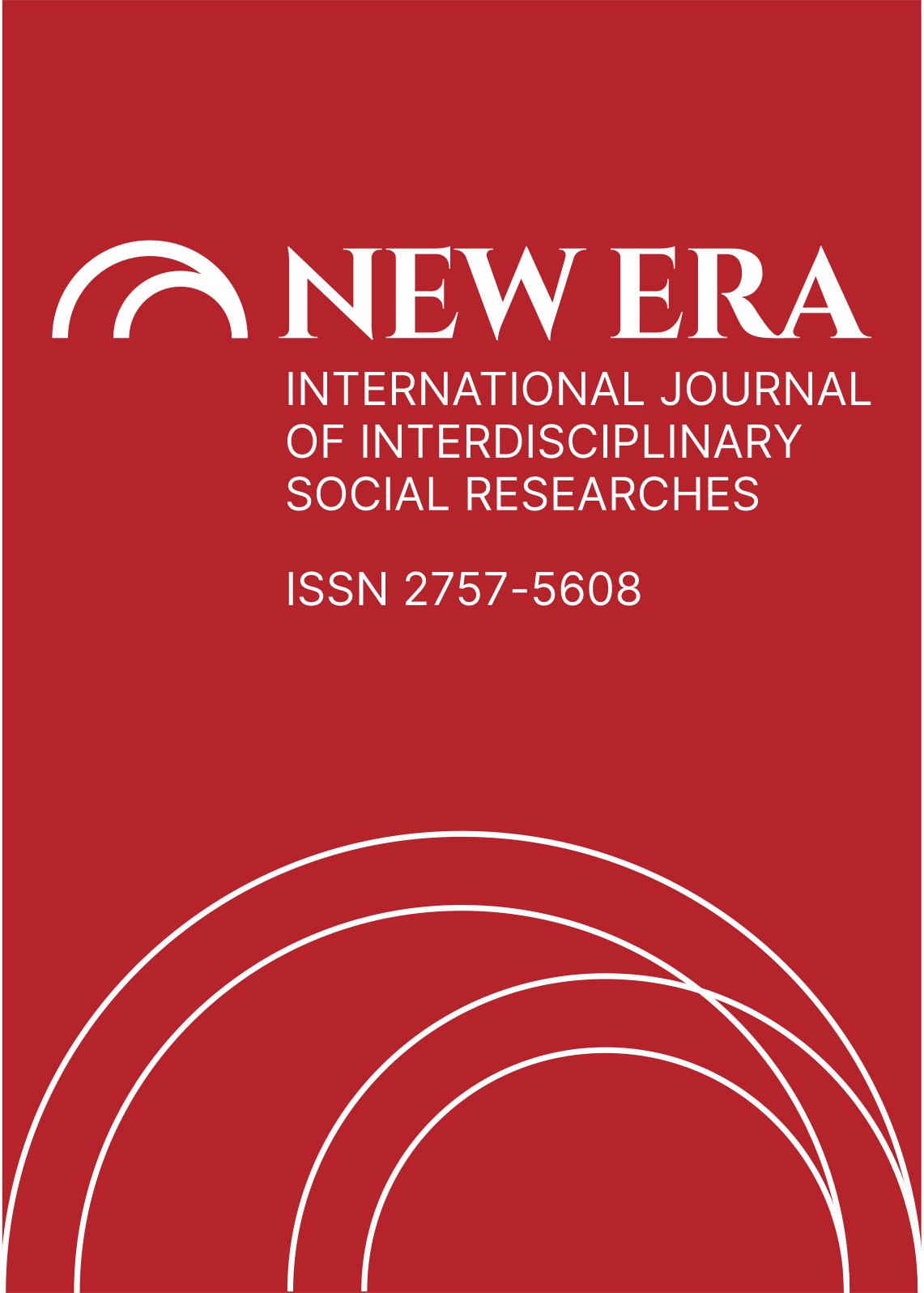 Downloads
How to Cite
MİKAEİLİ, M. (2023). AB-ANBAR: A SUSTAINABLE ARCHITECTURAL METHOD FOR WATER RESERVATION IN HOT-ARID REGIONS OF IRAN . NEW ERA INTERNATIONAL JOURNAL OF INTERDISCIPLINARY SOCIAL RESEARCHES, 8(18), 35–43. https://doi.org/10.5281/zenodo.7952566
License
Copyright (c) 2023 NEW ERA INTERNATIONAL JOURNAL OF INTERDISCIPLINARY SOCIAL RESEARCHES
This work is licensed under a Creative Commons Attribution-NonCommercial 4.0 International License.