ASABIYYAH OF RESSENTIMENT AND CAPTAIN AHAB: DOWNFALL OF THE AMERICAN HERO IN HERMAN MELVILLE'S MOBY-DICK

Abstract views: 264 /

PDF downloads: 5
Abstract
This study aims to focus on the downfall of the American hero in Herman Melville's Moby-Dick, or the White Whale with reference to the ideological correspondence between Captain Ahab's asabiyyah of ressentiment and the 19th century expansionist rhetoric of the American Manifest Destiny. According to the foundational tenets of Calvinism, such as predestination and unconditional election, 17th century Calvinist Puritan pioneers of the colonial America envisioned a sanctified future for their existence in the New World. Hence, preceding self-autonomous body politic of the early 17th century Calvinist colonies before the common law era and its consequent Anglicization process, was revived with the Revolutionary spirit of the United States. In this respect, post-Revolutionary American rhetoric of the Manifest Destiny aligned the sanctified Reform identity of Calvinism with the belief in the futurity of American exceptionalism. While the discursive practices of Manifest Destiny comforted the consequent social and ideological disintegrations following the advancement of expansionism and industrialization in the Antebellum America, it legitimized the militarism of the federal power, which came to identify the North as a politically and culturally triumphant party of the nation after the Civil War. In connection with this historical background, Captain Ahab's asabiyyah of ressentiment against the overwhelming powers of nature will be analyzed from the viewpoint of Ibn Khaldun's theory of asabiyyah, by which he formulated the transformation of societies from the initial forms of social solidarity to empires; and the quests of Friedrich Nietzsche and Max Scheler on the roots of ressentiment, which they claimed to be the essence of a diseased sense of selfhood obsessed with an infinity-oriented ascendency. Melville's theme of human versus nature, thus, will be analyzed with an equally undercurrent theme of American expansionism, which associates Captain Ahab's will to dominate with that of 19th century rhetoric of Manifest Destiny.
References
KAYNAKÇA
Aydın, Mehmet. Moby Dick Yerküre ve Denizküre Arasında. Ankara: DoğuBatı Yayınları, 2022.
Batur, Behçet. "İbn Haldun'un Asabiyeti: Bir Kavramın Sosyolojik İzdüşümleri."Selçuk
Üniversitesi Sosyal Bilimler Enstitüsü Dergisi. 2021, 46, 152-161.
https://doi.org/10.52642/susbed.902524. Erişim tarihi: 28 Mart 2023.
Cerrotti, Dennis. Hidden Genocide, Hidden People. Sea Venture Press, 2014.
Chaplin, Joyce. Subject Matter: Technology, The Body, and Science in The Anglo-American
Frontier, 1500-1676. Harvard University Press, 2001.
--- Round About the Earth: Circumnavigation from Magellan to Orbit. Simon and Schuster,
Cohen, Daniel A. Pillars of Salt, Monuments of Grace. Amherst and Boston: University of
Massachusetts Press, 2006.
Dale, Stephen Frederic. Marakeş'in Portakal Ağaçları – İbn Haldun ve İnsan Bilimi. Ayşecan Ay
& Canan Coşkan (Çevirmenler). İstanbul: Say Yayınları, 2015.
Dilthey, W. Hermeneutik ve Tin Bilimleri. Doğan, Ö. (translated by), İstanbul: Paradigma
Yayınları, 1999.
Hawthorne, Nathaniel. Leke. İhsan Hız (Çevirmen). Ankara:Altınpost Yayınları, 2015.
İbn Haldun. Mukaddime.Süleyman Uludağ (Hazırlayan). İstanbul:Dergah Yayınları, 2022.
McManus, E.J. Law and Liberty in Early New England: Criminal Justice and Due Process, 1620-
Amherst: The University of Massachusetts Press, 1993.
Melville, Herman. Moby Dick Beyaz Balina. Sabahattin Eyuboğlu & Mina Urgan (çevirmenler).
İstanbul : Yapı Kredi Yayınları, 2010.
---"Hawthorne and His Mosses." The Literary World. Hawthorne and His Mosses, by Melville, 1850 (ibiblio.org) Erişim tarihi: 28 Temmuz 2023.
Morton, Timothy. Hyperobjects. Philosophy and Ecology After the End of the World. The
University Press, 2013.
Nietzsche, Friedrich. Ahlakın Soykütüğü Üstüne. Ahmet İnam (Çev.). İstanbul: Say Yayınları,
Scheler, Max. Hınç. Abdullah Yılmaz (Çev.). Alfa, 2015.
--- Ressentiment. Louis A. Coser (Trans.). Max Scheler--Ressentiment (hscif.org)
Erişim tarihi: 16 Şubat 2023
White, G.E. The Marshall Court and Cultural Change 1815-1835. NY: Oxford University Press,
Yalçın, Sinem. Nietzsche ve Max Scheler'de Ressentiment Kavramı. Mimar Sinan Güzel Sanatlar
Üniversitesi, Fen-Edebiyat Fakültesi, Felsefe Bölümü. Yayımlanmamış Yüksek Lisans
Tezi, 2012.
Robinson, William I. "Küresel Kapitalizm ve Ulusötesi Kapitalist Hegemonya: Kuramsal Notlar
ve Görgül Deliller." Erdem Türközü (Çevirmen). Praksis 8, 125-168.
https://www.praksis.org. Erişim Tarihi: 03 Eylül 2023.
Ross, Dorothy. "Historical Consciousness in Nineteenth-Century America." The American
Historical Review. Vol. 89, No. 4, 1984, pp. 909- 928. https://www.jstor.org/stable/1866398. Erişim tarihi: 11 Ağustos 2023.
Samuel 1. Tevrat. Kutsal Kitap. Tevrat Zebur İncil, 2018.
Slikker, Hank B. Israel's Worst King? The Story of Ahab in the Light of Its Relationship to the
Stories of Saul, David and Solomon. Unpublished PhD. Dissertation. Department of
Biblical Studies at the University of Sheffield, 2002.
Strang, Cameron B. Frontiers of Science: Imperialism and Natural Knowledge in the Gulf South
Borderlands, 1500-1850. Virginia: University of North Carolina Press, 2018.
The Jewish Study Bible. The Jewish Study Bible (Second Edition) Torah, Nevi'im, Kethuvim.
Jewish Publication Society. Tanakh Translation. Oxford University Press, 2014.
Trepanier,L."Hawthorne's Counterfeiting History in The Scarlet Letter." 2012.
http://anamnesisjournal.com/2012/01/lee-trepanier-2/#more-41. Erişim tarihi: 20
Ağustos 2023.
Warren, Wendy. New England Bound: Slavery and Colonization in Early America. First ed.
Liveright Publishing Corporation a Division of W.W. Norton & Company 2016.
Uludağ Süleyman. "Mukaddime'nin Temel Kavramları." Mukaddime. İbn Haldun. Süleyman
Uludağ (Hazırlayan). İstanbul:Dergah Yayınları, 2022.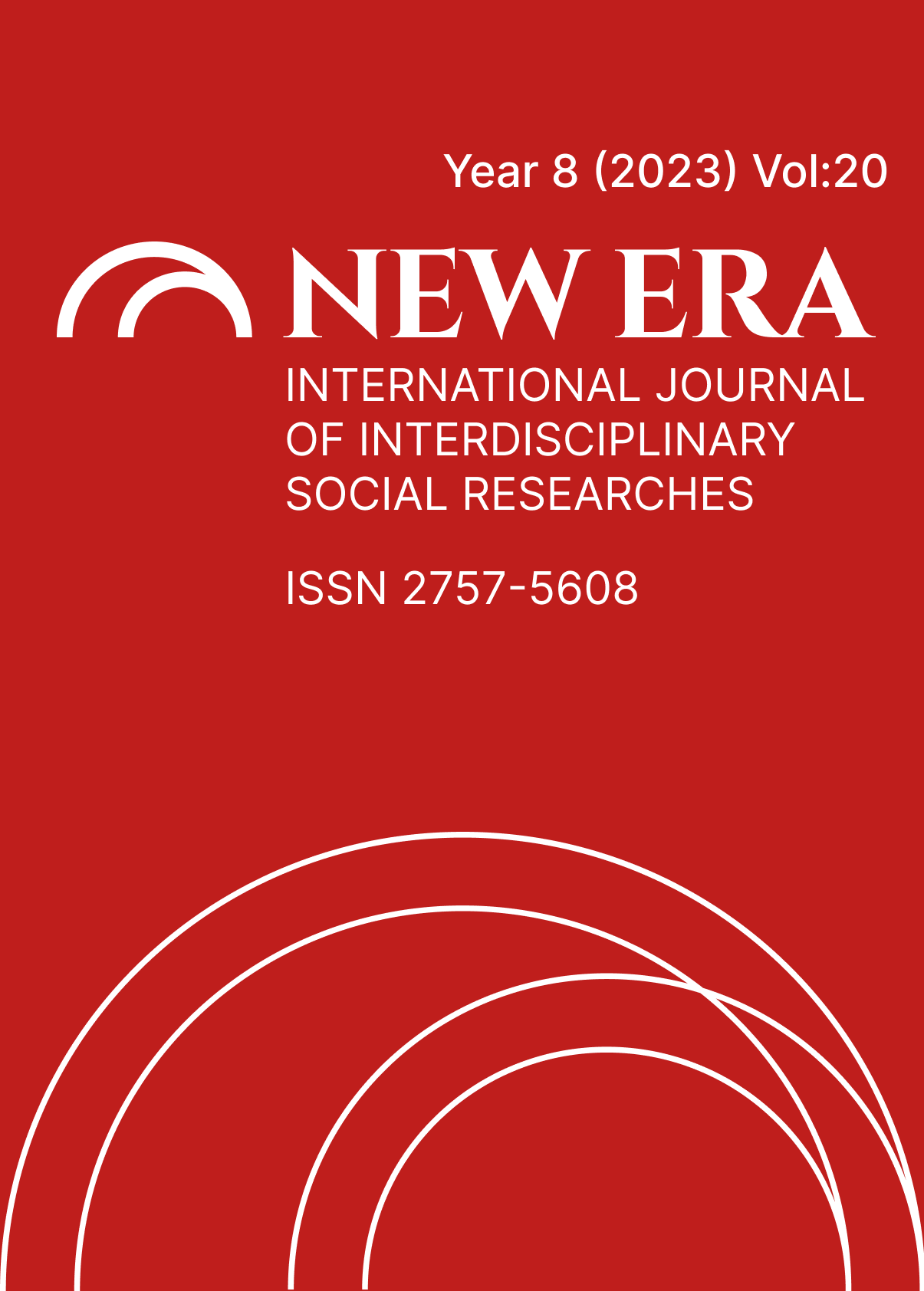 Downloads
How to Cite
DENIZARSLANI, Y. (2023). ASABIYYAH OF RESSENTIMENT AND CAPTAIN AHAB: DOWNFALL OF THE AMERICAN HERO IN HERMAN MELVILLE'S MOBY-DICK. NEW ERA INTERNATIONAL JOURNAL OF INTERDISCIPLINARY SOCIAL RESEARCHES, 8(20), 13–33. https://doi.org/10.5281/zenodo.8344745
License
Copyright (c) 2023 NEW ERA INTERNATIONAL JOURNAL OF INTERDISCIPLINARY SOCIAL RESEARCHES
This work is licensed under a Creative Commons Attribution-NonCommercial 4.0 International License.