A GENERAL EVALUATION OF LOGISTICS MANAGEMENT IN TERMS OF ORGANIZATIONS

Abstract views: 57 /

PDF downloads: 85
Keywords:
Logistics, Business, Process
Abstract
Today's world is in a period where globalization activities and commercial applications are experienced rapidly. For this reason, logistics is an important business function to offer all kinds of products and services that all global consumers need, at the right time, at the right place, at the right cost, under the right conditions, to the right customer. In terms of businesses, logistics has strategic importance in providing inputs to the business, information flow in the processes of the business and ensuring the appropriate distribution of business outputs in target markets, and it is important both in the planning of operating costs and in terms of gaining value of the business. In addition, logistics enables the realization of the structure defined as the supply chain by providing product and information flow between businesses. In the last quarter of the century, where globalization is gaining momentum day by day, businesses are developing their logistics practices day by day and including them in company processes in order to ensure continuity in their activities and not to lose their customers, who are the most important part of their earnings. However, logistics has generally been tried to be defined as numerical applications made with a pure transportation process and sometimes with computer software. However, although logistics has a financial aspect that includes many numerical operations, there is also a managerial aspect that requires planning, organization and control at every step. By mentioning the emergence and development of logistics activities, which are critical for businesses, the logistics management practices of these activities in businesses, their benefits to businesses and the working areas of logistics management in businesses are examined.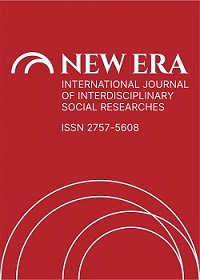 Downloads
How to Cite
AĞIN, K. (2022). A GENERAL EVALUATION OF LOGISTICS MANAGEMENT IN TERMS OF ORGANIZATIONS. NEW ERA INTERNATIONAL JOURNAL OF INTERDISCIPLINARY SOCIAL RESEARCHES, 7(12), 1–7. https://doi.org/10.51296/newera.157
License
This work is licensed under a Creative Commons Attribution-NonCommercial 4.0 International License.