GIFTED SECONDARY SCHOOL STUDENTS' PERCEPTIONS REGARDING THE CONCEPT OF GEOGRAPHY

Abstract views: 165 /

PDF downloads: 80
Keywords:
Coğrafya, algı, özel yetenekli öğrenci
Abstract
In the present study, it is tried to determine how gifted secondary school students perceive the concept of "geography". For this purpose, the metaphors developed by the gifted students regarding the related concept and the data obtained from the pictures/cartoons they drew were examined. Qualitative research techniques such as data collection through metaphors and document analysis were used together in the research, which was carried out in the survey model in the qualitative research design. The study group consists of 106 female and 110 male, a total of 216 students from the 5th, 6th and 7th grades of secondary school studying at Sivas Science and Art Center in the 2021-2022 academic year. The study group was selected by the maximum variation sampling method. Content analysis was used to analyze the data obtained from the participants. According to the findings, a total of 119 metaphors were developed regarding the concept of "geography" as follow: 42 from 72 participants at the 5th grade level, 44 from 57 participants at the 6th grade level, and 33 from 41 participants at the 7th grade level. These metaphors developed by the participants for the related concept are grouped under fourteen conceptual categories. According to these categories, it is seen that the majority of the participants perceive geography as "informative, has diverse braches and inclusive". It is recommended that studies be carried out to determine whether there are differences in perception between gifted students and other students by increasing the research on the perceptions of geography of students studying in other secondary schools apart from Science and Art Centers.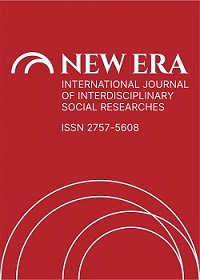 Downloads
How to Cite
ABLAK, S., ERGÜN, A., & UZUN, A. (2022). GIFTED SECONDARY SCHOOL STUDENTS' PERCEPTIONS REGARDING THE CONCEPT OF GEOGRAPHY. NEW ERA INTERNATIONAL JOURNAL OF INTERDISCIPLINARY SOCIAL RESEARCHES, 7(12), 90–110. https://doi.org/10.51296/newera.175
License
This work is licensed under a Creative Commons Attribution-NonCommercial 4.0 International License.