THE USAGE OF OPEN GREEN SPACE IN PRE-SCHOOL EDUCATION INSTITUTIONS SAMPLE OF TUZLA (ISTANBUL)

Abstract views: 39 /

PDF downloads: 39
Abstract
Childhood is the most important period in human development. People prepare for life with the knowledge, skills and experiences they have acquired during this period. Childhood is considered between 0 and 14 years old. 0-6 years old is pre-school age and 6-14 years old is primary education age. The children need an environment that will develop their social, physical, emotional and psychological skills in order to become physically and mentally healthy people in the future. In this context, school gardens are the most suitable and effective places for education, games, sports, social and cultural activities and various celebrations. Because children spend most of their time at school. In this study, open green spaces of public and private pre-school education institutions were examined in the Postane and Istasyon neighborhood of Tuzla District of Istanbul. The sample group of this study includes 20 institutions. In the study, data were obtained by using the survey method with 150 teachers working in the institutions. At the same time, a check-observation list was created by making on-site observations to measure the current situation of outdoor use in preschool education institutions, and the open green spaces of the schools were classified as "good", "moderate" and "poor" by scoring between 0-1 according to the available data. SPSS 20 software package program was used to analyze the data. In the study, suggestions were presented for more effective use of school gardens.
References
Alqudah, Y. M. M. Çocuğun Gelişiminde Oyun Alanlarının Rolü. (Yüksek Lisans Semineri) Ankara Üniversitesi Fen Bilimleri Enstitüsü, Ankara, 2003.
Clements, R. (2004). "An Investigation of The Status Of Outdoor Play". Contemporary Issues in Early Childhood, 5 (2)
Çukur, D., Delice, G. E. (2011). "Erken Çocukluk Döneminde Görsel Algı Gelişimine Uygun Mekân Tasarımı". Aile ve Toplum Eğitimsel Kültür ve Araştırma Dergisi. Cilt:7, Sayı: 24, s30 - 34.
Demiriz, S., Karadağ, A., Ulutaş İ. (2003). Okulöncesi Eğitim Kurumlarında Eğitim Ortamı ve Donanım, Anı Yayıncılık, Ankara.
Ereli, E. Türkiye'deki İlköğretim Okul Bahçelerinde Peyzaj Planlama ve Tasarım İlkelerinin Saptanması. (Yüksek Lisans Tezi) Ankara Üniversitesi, Ankara, 2001.
Google Map. (2021). Tuzla konum.
https://www.google.com/maps/place/Tuzla%2F%C4%B0stanbul/@40.8918878,29.2166034,11z/data=!3m1!4b1!4m5!3m4!1s0x14cad9a716174373:0x1df73419f1930424!8m2!3d40.8982305!4d29.3598782 adresinden erişildi.
Kalburan, C. (2014). "Denizli İlinde Bulunan Resmi ve Özel Anaokulu Bahçelerinin Karşılaştırmalı Olarak İncelenmesi". Pamukkale Üniversitesi Sosyal Bilimler Enstitüsü Dergisi, 18, 99–113.
Kalemci, F. (1998). Okulöncesi Eğitim Kurumlarının Çevre Düzenlemesi ve Çalışan Eğitimci Personelin Nitelikleri Yönünden İncelenmesi. Aydoğdu Ofset, Ankara.
MEB. (2004). Okul Öncesi Eğitim Kurumları Yönetmeliği. 11.04.2020 tarihinde http://mevzuat.meb.gov.tr/html/25486-html, adresinden erişildi.
MEB. (2015). 2015 Eğitim Yapıları Asgari Tasarım Standartları Kılavuzu. Ankara, MEB. İnşaat ve Emlak Dairesi Başkanlığı.
MEB. (2013). Okul Öncesi Eğitim Programı. Ankara, MEB. Temel Eğitim Genel Müdürlüğü.
Metin N., Şahin S. (1999). "Okul Öncesi Düzeyde ve Dört-Dokuz Yaş Grubundaki Zihinsel Engelli Çocukların Tercih Ettikleri Oyun Köşeleri ve Oynadıkları Oyun Tiplerinin İncelenmesi". Özel Eğitim Dergisi, Cilt 2 (3)14-24.
Olds, A. R. (2001). Child Care Design Guide, The Mcgraw Companies, USA.
Ramazan, O. (2005). Okul Öncesi Eğitim Ortamlarında Fiziksel Ortam. İstanbul. Morpa Kültür Yayınları.
Studer, M. L. (1998). "Developing on Outdoor Classroom: Blending Classroom Curriculum & Outdoor Play Space". Teksas Child Care, 12-19.
Şener, E. A. Okul Öncesi Çocuk Eğitim Merkezleri İçin Değişebilir/Dönüşebilir/Esnek Bir Fiziksel Çevre Modeli. (Doktora tezi). İstanbul Teknik Üniversitesi, Fen Bilimleri Enstitüsü, İstanbul, 2001.
Tekkaya, E. (2001). "Tasarlanmış Çocuk Hakları: Ankara Çocuk Oyun Alanları. Milli Eğitim Dergisi". Temmuz, Ağustos, Eylül: 151.
Terzioğlu, E. İlköğretim Okulu Binalarının Fiziksel Özellikler Bakımından Değerlendirilmesi. (Doktora Tezi). Hacettepe Üniversitesi, Ankara, 2005.
Towell, J. L. Quality Outdoor Preschool Environments Early Care and Education Centers. (Master of Science). Oklahoma State University, USA, 2005.
Turaşlı, N. (2007). Okulöncesi Eğitime Giriş, Ankara: Anı Yayıncılık.
Vessey A. J., Yim-Chiplis P. K., Mackenzie N. R. (1998). "Effectes of Television Viewing on Children's Development". Pediatric Nursing, 23(5), 483–486.
Wake, M., Hesketh, K., Waters, E. (2003). "Television, Computeruse and Body Mas Index in Australian Primary School Children", Journal of Paediatric Child Health, 39, 130–134.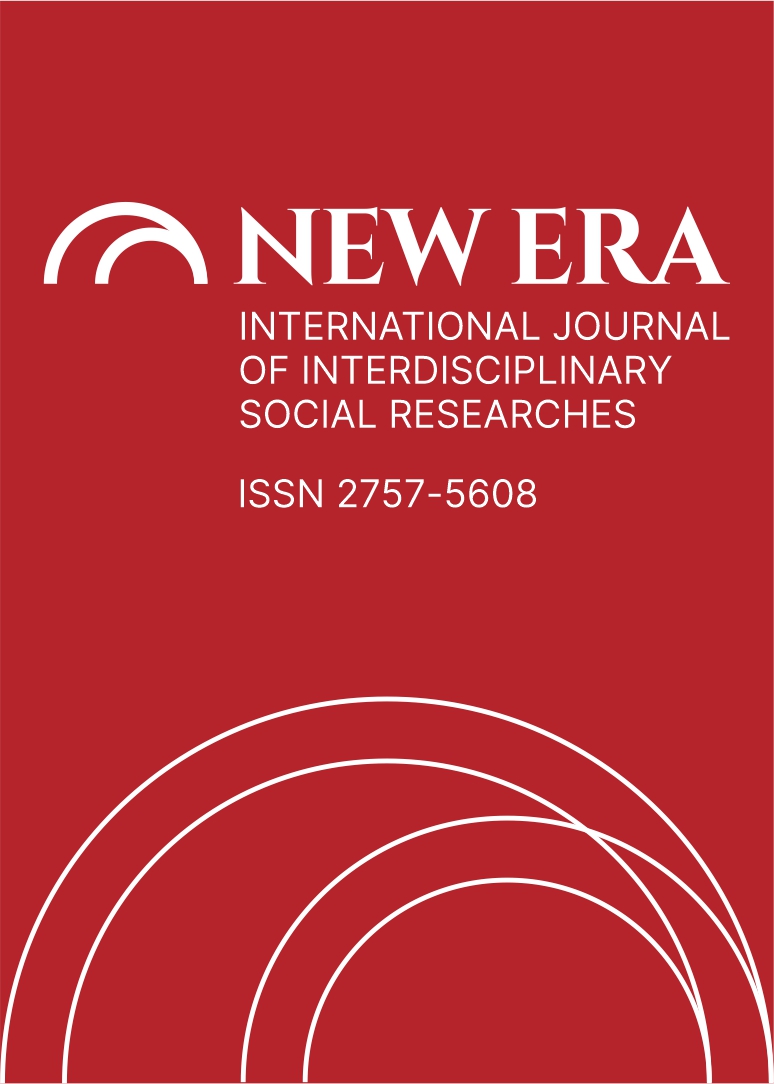 Downloads
How to Cite
KOÇAN, N., & ÖZTÜRK, M. (2022). THE USAGE OF OPEN GREEN SPACE IN PRE-SCHOOL EDUCATION INSTITUTIONS SAMPLE OF TUZLA (ISTANBUL). NEW ERA INTERNATIONAL JOURNAL OF INTERDISCIPLINARY SOCIAL RESEARCHES, 7(15), 33–59. https://doi.org/10.5281/zenodo.7113118
License
Copyright (c) 2022 NEW ERA INTERNATIONAL JOURNAL OF INTERDISCIPLINARY SOCIAL RESEARCHES
This work is licensed under a Creative Commons Attribution-NonCommercial 4.0 International License.