REFLECTION OF CHANGING DAILY LIFE PRACTICES IN TURKEY ON THE WORKS OF ÇALLI GENERATION (1914-1950 PERIOD)

Abstract views: 77 /

PDF downloads: 66
Abstract
Everyday life has emerged with modernism and constitutes a reality constructed by society. Everyday life is discussed from different perspectives affected by the social structure. For this reason, daily life is reshaped with the developments. Every society's daily life practices change according to the differentiating life models and cultural codes. In the post-war period of 1914, daily life practices have changed completely. After 1914, during the years of the collapse of the Ottoman Empire and the establishment of the Turkish Republic, these practices began to transform, and people tried to adapt themselves to this situation by developing their own tactics. Changing and transforming practices and the establishment of the state have led to changes in people's daily practices. This process has been realized through resources that will enable us to make sense of the transfer and transformation of time to us years later. In addition to written sources, visual sources also have an important place in the formation of this process. With the painters who reflect that period to us visually, and especially with the 1914 impressionism movement and the Çallı Generation, daily life themes began to be treated in oil paintings. Art, which has been transformed with the influence of the Contemporary art movements that are dominant in Western societies, has started to be effective since the 20th century. Impressionism movement is defined as trying to describe the changing and transforming structure of the society that emerged in this framework with brush strokes. With the influence of the Çallı generation painters by this movement, the effects of this movement were reflected in the works. The aim of this study is to examine how the changing and transforming daily life practices are reflected in the works of the Çallı generation and to describe the relationship between the impressionism movement and the transformation of daily life.
References
Bozdağ, Sibel. Türkiye'de Modernleşme ve Ulusal Kimlik. çev. Nurettin Elhüseyni. İstanbul: Tarih Vakfı Yurt Yayınları. 1998.
Deniz, A. Çağlar. ve Kentel, Ferhat. "De Certeau: Operasyonlar, Strateji, Taktik Ve Kent". Tarih Okulu Dergisi. 25/9 (Mart 2016), 747-761. http://dx.doi.org/10.14225/Joh888
Erkal, Mustafa E. "1938-1980 Dönemi Türkiye'de Sosyal Yapı ve Dinamikleri". Sosyoloji Konferansları. 53. (Ocak 2016), DOI 10.18368/IU/sk.75981
Findely Carter V. Modern Türkiye Tarihi İslam Milliyetçilik ve Modernlik 17899-2007. çev:Güneş Ayaş. İstanbul: Timaş Yayınları.2011.
Gök, Murat. & Aydın, Seçkin. "Gündelik Hayat Bağlamında Dönüşen Sanat". Siirt Üniversitesi Sosyal Bilimler Enstitüsü Dergisi. 8/15. (2020). 229-246. ISSN: 2147-8406
Gökalp Yılmaz, F. Gaye. Michel De Certeau'nun Gündelik Hayat Sosyolojisiyle Bir Analiz: Almanya'daki Türklerin Gündelik Hayat Pratikleri Ve Taktikler. Ankara: Detay Yayıncılık. 2018.
Karpat, Kemal H. Türk Demokrasi Tarihi. 1. Baskı. İstanbul: Timaş Yayınları. 2010.
Kırış, Emine. "Fransız Sosyoloji'sinde Gündelik Hayat Çalışmaları". Sosyal ve Kültürel Araştırmalar Dergisi. 5/9. (2019). 131-145
Lewis, Bernard. Modern Türkiye'nin Doğuşu. çev.Babür Tuna. Ankara: Arkadaş Yayınları. 2002.
Türkdoğan, Orhan. Türk Ulus Devlet Kimliği. 2. Baskı. Konya: Çizgi Kitapevi. 2013.
Yiğit, Zehra. ""Modernliğin Arka Yüzü" Olarak Gündelik Hayat: Aşkı Memnu". Dokuz Eylül Üniversitesi Sosyal Bilimler Enstitüsü Dergisi. 14/2. (2012). 125-144. ISSN: 1302-3284
Zürcher ,Erik Jan. Modernleşen Türkiye'nin Tarihi. çev. Yasemin Saner. 35. Baskı. İstanbul: İletişim Yayınları. 2015.
Zürcher,Erik Jan. Savaş Devrim ve Uluslaşma Türkiye Tarihinde Geçiş Dönemi 1908-1928. çev: Ergun Aydınoğlu. İstanbul: Bilgi Üniversitesi Yayınları. 2005.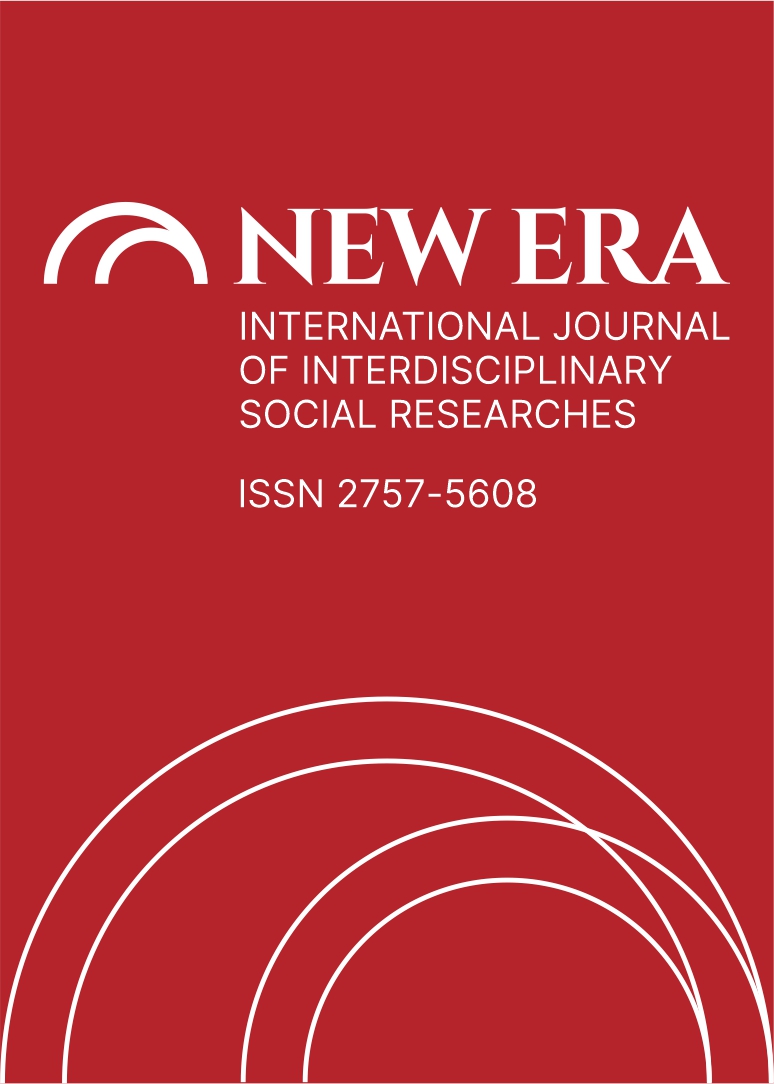 Downloads
How to Cite
Şikar, A., & Gökalp Yılmaz, G. (2022). REFLECTION OF CHANGING DAILY LIFE PRACTICES IN TURKEY ON THE WORKS OF ÇALLI GENERATION (1914-1950 PERIOD). NEW ERA INTERNATIONAL JOURNAL OF INTERDISCIPLINARY SOCIAL RESEARCHES, 7(15), 1–17. https://doi.org/10.5281/zenodo.7112945
License
Copyright (c) 2022 NEW ERA INTERNATIONAL JOURNAL OF INTERDISCIPLINARY SOCIAL RESEARCHES
This work is licensed under a Creative Commons Attribution-NonCommercial 4.0 International License.