ETHICS IN POLITICS AND MEHMED AKIF

Abstract views: 60 /

PDF downloads: 38
Keywords:
Politics, power, Mehmed Akif, Ethics in Politics
Abstract
As it is generally defined, it is difficult to say that politics, which is known as all the activities that develop as a result of the use of power, power and domination towards social life, in the form of ordering and obedience, and the morality that aims to raise people to the level of a virtuous being are in harmony. However, it is a fact that there are exceptions to this situation. It can be accepted that one of these exceptions in our political history is Mehmed Akif. Mehmed Akif, who is generally known as a poet, an intellectual and a thinker, is also considered a politician and statesman, as he was also involved in politics (membership of the Union and Progress, Burdur Deputy) at some point in his life. As stated in the sources, although he did not like being a politician, his relationship with politics and his stance against politics contained important messages. Regardless of how effective these messages were in the world of that day, it is obvious that today's Mehmet Akif's behavior that brings politics and morality together in his political life, even if it is short, is sorely needed. Trying to stay away from daily political conflicts, Mehmed Akif preferred to be in a supra-political position in terms of country politics or the stance that should be taken against imperialism. Therefore, by stating that daily vicious political conflicts cannot be beneficial, he has personally demonstrated that politics can only be meaningful on the condition that it is beyond service to society and relations of interest. The understanding of Islam, which is the guarantee of unity and solidarity, which constitutes the homeland that constitutes the whole of the Islamic world and the moral of the whole society living in this homeland, forms the basis of Akif's political thought. When we look at Akif's works, it is possible to see the traces of this understanding. In this study, by giving some examples from Akif's political life, it has been tried to reveal important clues about the relationship between politics and morality, that is, how a moral stance in politics can be possible.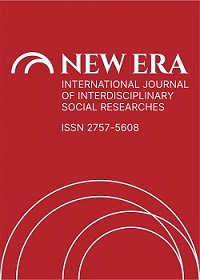 Downloads
How to Cite
ÖZTÜRK, Şaban. (2022). ETHICS IN POLITICS AND MEHMED AKIF. NEW ERA INTERNATIONAL JOURNAL OF INTERDISCIPLINARY SOCIAL RESEARCHES, 7(12), 23–29. Retrieved from https://newerajournal.com/index.php/newera/article/view/90
License
This work is licensed under a Creative Commons Attribution-NonCommercial 4.0 International License.