IN THE WORDS OF ÖMER BAKIR, THE PROFESSION OF BAKIRING IN ŞANLIURFA PROVINCE

Abstract views: 70 /

PDF downloads: 106
Keywords:
Copper, Coppersmithing, Traditional Handicrafts, Craft, Profession
Abstract
Copper is one of the mines that mankind has been using for thousands of years. This mine, which gave its name to one of the prehistoric periods, was used as ornaments, jewelry, household goods and kitchen utensils and took a very important place in thousands of years of human adventure. The first examples of works produced by copper mine are exhibited in museums. These works show that human beings had a high aesthetic understanding in the past. Although copper kitchen utensils are mostly replaced by steel and porcelain utensils today, copper production continues with traditional methods.In this study, the craft of coppersmithing has been introduced in general terms and the past, present and works of the profession with master artist Ömer Bakır, who is practicing his ancestral profession today in Şanlıurfa, one of the important centers of traditional copperware production, are discussed. With this study, where the importance of the coppersmithing profession and the necessity of keeping this profession alive are emphasized, the necessity of transferring traditional handicrafts to the future is emphasized. The study was created with face-to-face interview technique and supported by source scanning.
References
Arlı, M. (1984). Beypazarı'nda Dövme Bakırcılık, Ankara Üniversitesi Basımevi, Ankara, Kültür ve Turizm Bakanlığı Milli Folklor Araştırma Dergisi Yay:54, Maddi Kültür Dizisi 1.
Bezirci, Z. (2001). Konya'da Bulunan Bakır İşçiliği Ürünü Eserler ve Konya İli Bakır İşçiliğinin Bugünkü Durumu. Yayımlanmış yüksek lisans tezi, Selçuk Üniversitesi, Konya.
Jones DG, Suttle NF (1981) Some Effects of Copper Defiency on Leukocyte Function in sheep and cattle. Res Vet Sci, 31:151-157
Kayaoğlu, İ, G., 1984, Bakır Yapma Teknikleri: Dövme Tekniği, Anadolu Sanat Yayınları, İstanbul.
Kürkçüoğlu, A. C., (2002), Şanlıurfa Uygarlığın Doğduğu Şehir, Heyet, Kitap Bölümü Şanlıurfa El Sanatları, Şurkav Yayınları.
MTA, Fizibilite Etütleri Dairesi Başkanlığı, Türkiye ve Dünyada Bakır, 2016.
Tan, N., "Bakırcılık Sanatı", Sümerbank Aylık Endüstri ve Kültür Dergisi, yıl 1976, sayı 165, s.34-37
Tekin, H., 2015. Eski Anadolu Madenciliği, Arkeolojik Verilerin Işığı Altında Başlangıcından Demir Çağı'na kadar. Bilgin Kültür Sanat Yayınları, Ankara.
Yalçın, Ü., 2000. Anfange der Metalwerwendung in Anatolien, Anatolien Metal I. Der Anschnitt 13, Bochum.
Yavuz, C., Türk Mutfağında Bakırın Yeri ve Bakır Zanaatının Geleceği, Online Journal of Art and Design volume 7, issue 3, July 2019.
Sözlü Görüşme:
BAKIR Ömer , sözlü görüşme, 10.06.2022, Tuğra Bakırcılık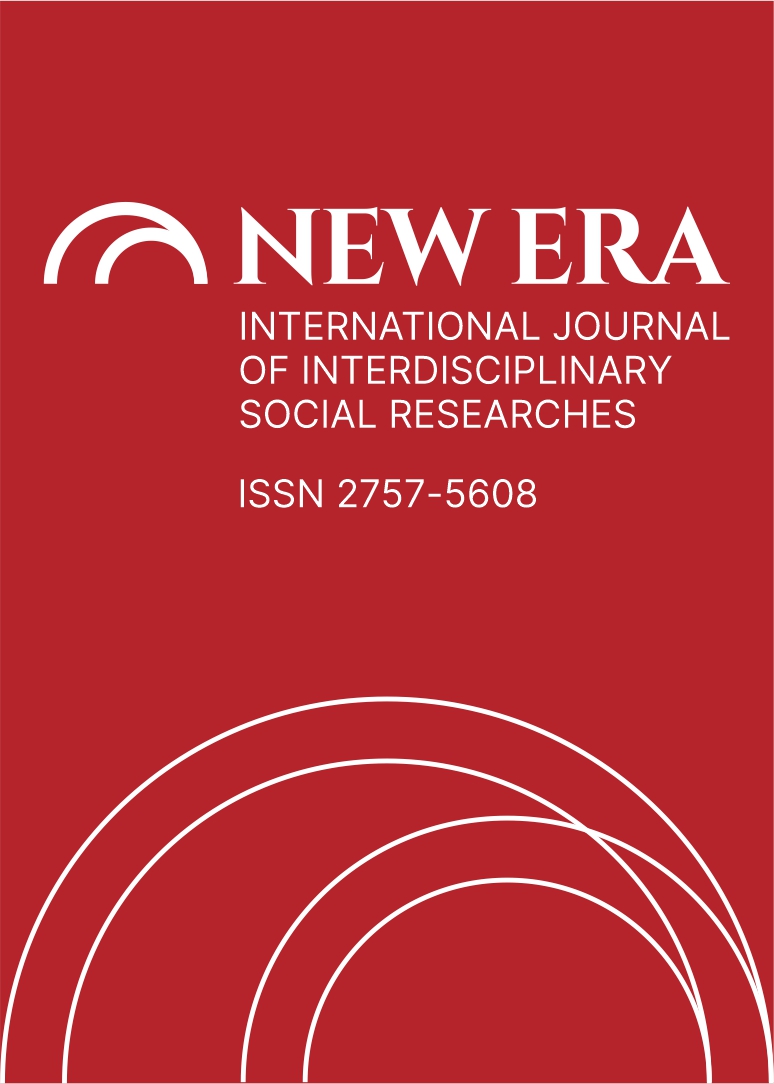 Downloads
How to Cite
KILIÇ KARATAY, S., & BADILLI, S. (2023). IN THE WORDS OF ÖMER BAKIR, THE PROFESSION OF BAKIRING IN ŞANLIURFA PROVINCE. NEW ERA INTERNATIONAL JOURNAL OF INTERDISCIPLINARY SOCIAL RESEARCHES, 8(17), 109–124. https://doi.org/10.5281/zenodo.7752946
License
Copyright (c) 2023 NEW ERA INTERNATIONAL JOURNAL OF INTERDISCIPLINARY SOCIAL RESEARCHES
This work is licensed under a Creative Commons Attribution-NonCommercial 4.0 International License.